| Overall Rating | 4.3/5.0 |
| --- | --- |
| Communication | |
| Matching System | |
| Mobile Usability | |
| Registration | |
| Support | |
| Terms And Conditions | |


OkCupid, which launched in 2004, is a very popular free online dating service that uses math to match people together. On its website, OkCupid makes the claim that it is "the best free dating site on Earth." Since conception, OkCupid has brought in tens of millions of members, with millions of unique active members visiting the site each and every day.

Visit OkCupid Website >>
---
OkCupid Communication
| Overall Rating | |
| --- | --- |
| E-Mail | |
| Chat Functions | |
| Video Chat | |
In terms of the available communication platforms given to members, OkCupid seems to be doing the bare minimum. Members can communicate via direct email messaging; this is the only available way of contact. Currently, there is no live chat feature available on OkCupid. Users aren't given the option to use video chat. In general, means of communication on OkCupid are good, but limited.
---
OkCupid Matching System
| Overall Rating | |
| --- | --- |
| Personality Test | |
| Profile Matching | |
| Profile Visitors | |
| Block Users | |
OkCupid has one of the best and most thorough matching systems available in an online dating service. OkCupid employs an extended personality test in the form of multiple choice questions, to match users together. Users are asked a question, then asked what answer they would like a partner to choose, and then they are asked how important it is that the partner chooses that answer. A profile matching system allows users to browse through a list of potential suitors. Members are notified when another looks at his or her profile. Blocking users from making contact is an option on OkCupid. Overall, the matching system on OkCupid is excellent.
---
OkCupid Search Features
| Overall Rating | |
| --- | --- |
| Picture Search | |
| Keyword Search | |
| Now-Online Search | |
| Search By Profile Criteria | |
| Show New Members | |
OkCupid's search functions are good, but not great. OkCupid users can browse member profiles based on photos. Users are also given the option to easily search for others that are currently online. Search functions allow members to break down a search based on specific profile criteria, such as age, height, religion, etc. OkCupid falls short, however, by not providing the means for users to search for new members. They doesn't allow users to search for others based on keywords, either. Despite these shortcomings, OkCupid's search functions are generally very good.
---
OkCupid Mobile Use
| Overall Rating | |
| --- | --- |
| Mobile Usability | |
| App Usability | |
| Android App | |
| iPhone App | |
OkCupid is a service that has excellent mobile usability. OkCupid's mobile usability is very good, but could be improved in some aspects, especially when compared with using the website on a computer. App usability is exceptional, however, with both Android and iPhone users giving the app great reviews in their app stores. Overall, using the OkCupid app on a mobile device is an easy and pleasant experience.
---
OkCupid Usability
| Overall Rating | |
| --- | --- |
| Login with Facebook | |
| Ease Of Registration | |
| Ease Of Use | |
OkCupid excels in their ease of use and registration. Setting up a new profile is a simple and engaging process that can be completed in just a few minutes. Potential new users are given the option to sign up using their Facebook accounts, which would expedite the process. Registration is incredibly easy for new members on OkCupid. Building a profile on OkCupid for the first time is an easy and quick process. In general, setting up an account on OkCupid is simple and fun.
---
OkCupid Popularity
| Overall Rating | |
| --- | --- |
| Facebook | |
| Male/Female Ratio | 29/71 |
| Main Age Range | 20-40 |
OkCupid is a widely popular service with a massive base of users registered from all over the globe. Users on OkCupid tend to be predominantly between the ages of 20 and 40. The site receives tens of millions of unique page views each month. Despite its high user rates and massive daily page views, OkCupid is not very popular with users on Facebook. Member profiles are high quality and very detailed, providing real insight into the user as a person and potential dating partner. OkCupid is a very popular dating site.
---
OkCupid Support
| Overall Rating | |
| --- | --- |
| Support FAQ | |
| E-mail / Contact Form | |
| Phone | |
| Helpful Articles | |
| Forum | |
OkCupid provides helpful support for members. The OkCupid website features a long and thorough FAQ outlining all the information a potential member might need. They also provide several contact forms for different questions or concerns. They have a blog as well where they publish posts from time to time about their own dating research. There is no phone number available to call for any pressing concerns, nor is there a forum anywhere on their website, for users to communicate beyond the confines of direct messaging. Overall, OkCupid provides good support for users, but there are spaces where they can do more.
---
OkCupid Terms And Conditions
| Overall Rating | |
| --- | --- |
| Free Offer | |
| Highest Price | 19.00 USD |
| Lowest Price | 9.00 USD |
| Free Trial Period | 0 |
| Monthly Plan | |
OkCupid provides some exceptional terms for its users. Backing up its claim as the best free dating site on Earth, OkCupid gives all users an unlimited free plan, meaning they will never be forced to upgrade to a premium account. Users who do choose to pay for premium features do so at their own discretion. OkCupid's membership plan is available at a decent price. A monthly membership plan is available. Cancellation terms are clearly noted, and the user is allowed to opt out of their membership at any time. Overall, OkCupid's membership terms are very fair.
---
OkCupid Summary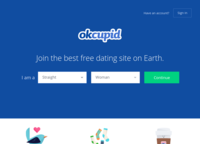 OkCupid is a very good online dating service, providing some really great features to members completely free. Users aren't given that many options in terms of communication, but OkCupid makes up for that with their exceptional matching system. OkCupid's simple registration process makes it painless for anyone to join. It is a very popular service, with most users falling between the age group of 20-40 years old. The website provides plenty of support for members, as well as reasonable membership terms. In general, OkCupid is a fantastic service for the price offered.