| Overall Rating | 4.7/5.0 |
| --- | --- |
| Communication | |
| Matching System | |
| Mobile Usability | |
| Registration | |
| Support | |
| Terms And Conditions | |

BBPeopleMeet is an active, niche online dating service targeted specifically to plus-size singles. BBPeopleMeet specializes in matching together Big and Beautiful women, plus-sized men and their admirers. This service claims to be the easiest and most comfortable environment for meeting other big, beautiful singles. BBPeopleMeet is a product of People Media, one of the largest and most diverse online dating companies out there. BBPeopleMeet is well-regarded and highly trusted. The site has many active members.

Visit BBPeopleMeet Website >>
---
BBPeopleMeet Communication
| Overall Rating | |
| --- | --- |
| E-Mail | |
| Chat Functions | |
| Video Chat | |
BBPeopleMeet makes it easy for plus-size singles to connect and communicate. Members can either send a standard mail message or a "flirt" notification to other members. The latter is used to initiate conversation by indicating interest in another member. If both members are online, it's possible to initiate a live chat. Users will receive a notification each time another user likes one of their pictures or visits their profile. There is no available video chat feature. BBPeopleMeet provides a few easy ways for its members to communicate with one another.
---
BBPeopleMeet Matching System
| Overall Rating | |
| --- | --- |
| Personality Test | |
| Profile Matching | |
| Profile Visitors | |
| Block Users | |
BBPeopleMeet's matching system includes some of its most exciting features. The service does not offer a personality test to match singles together. Instead, they use a profile matching system that pits two profiles against each other. The user is asked to choose which one he or she prefers. Users are able to see when another user visits their profile. BBPeopleMeet gives its members the ability to block others from seeing their profiles. Overall, BBPeopleMeet makes it fun and exciting for members to search for matches.
---
BBPeopleMeet Search Features
| Overall Rating | |
| --- | --- |
| Picture Search | |
| Keyword Search | |
| Now-Online Search | |
| Search By Profile Criteria | |
| Show New Members | |
Where BBPeopleMeet excels is in its search functions. The basic search function allows you to search based on gender, age range and location. Users can search for more specific profile criteria using the advanced search function. BBPeopleMeet allows members to see who has viewed and favorited their profiles. Members can also view search results in different ways, such as a photo gallery or thumbnails beside a brief profile description. Users can also search for others based on the last time they logged in. Overall, BBPeopleMeet has excellent search features.
---
BBPeopleMeet Mobile Use
| Overall Rating | |
| --- | --- |
| Mobile Usability | |
| App Usability | |
| Android App | |
| iPhone App | |
BBPeopleMeet is easy to use on both desktop and mobile platforms. When used on one's mobile browser, the site automatically changes into mobile view, allowing for optimal use. BBPeopleMeet has an app available for the iPhone. An app is also available in the Google Play store, for Android phones. In general, accessing BBPeopleMeet on a mobile device is an easy and enjoyable experience.
---
BBPeopleMeet Usability
| Overall Rating | |
| --- | --- |
| Login with Facebook | |
| Ease Of Registration | |
| Ease Of Use | |
Signing up and creating a profile on BBPeopleMeet is a quick and easy process. To create a profile, all one needs is a self-summary and a zip code. BBPeopleMeet will remind a user to fill out their profile if it is lacking in information. Profiles on BBPeopleMeet include standard identifiers such as height, weight, occupation and religion. More specific characterizers are available as well, including relationship expectations and smoking preferences. Profiles also feature an "I'd just like to add" section, for members to include any information that wasn't addressed in the provided identifiers. Creating a profile on BBPeopleMeet is easy to do and very straightforward.
---
BBPeopleMeet Popularity
| Overall Rating | |
| --- | --- |
| Facebook | |
| Male/Female Ratio | 51/49 |
| Main Age Range | 25-50 |
BBPeopleMeet is one of the most widely used dating sites for plus-sized women and men. Its user base is comprised not only of plus-sized women and men, but also their admirers. The ratio of men to women on the site tends to skew more toward men, but the gap between the two genders isn't too far apart. BBPeopleMeet has enjoyed a slow but steady rise in membership since its founding. On the whole, BBPeopleMeet is a popular and widely used niche dating service.
---
BBPeopleMeet Support
| Overall Rating | |
| --- | --- |
| Support FAQ | |
| E-mail / Contact Form | |
| Phone | |
| Helpful Articles | |
| Forum | |
BBPeopleMeet provides a full support page for users listing any concern a member may have. On its help page, BBPeopleMeet gives users a highly detailed list of frequently asked questions. The site has an email support page where members can directly contact BBPeopleMeet's customer service team. There is a search function and a categorical breakdown function within the FAQ page. This lets users easily find the answer to their question. BBPeopleMeet doesn't have a direct customer service phone line. On the whole, support features on BBPeopleMeet are thorough and helpful to users.
---
BBPeopleMeet Terms And Conditions
| Overall Rating | |
| --- | --- |
| Free Offer | |
| Highest Price | 14.00 USD |
| Lowest Price | 7.00 USD |
| Free Trial Period | 0 |
| Monthly Plan | |
BBPeopleMeet's terms and conditions are good, but not great. A free membership on BBPeopleMeet does not go as far as it would on other dating sites. Free members are not given access to use any of the messaging services beyond standard mail. A member can purchase an upgraded membership for access more of the features BBPeopleMeet has to offer. The upgraded membership is sold as one-month or six-month access packages. Upgraded members can purchase tokens to gain access to other premium features, such as user-specified notifications and a virtual gift store. Overall, BBPeopleMeet's terms and conditions are fair, but complicated.
---
BBPeopleMeet Summary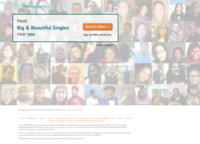 BBPeopleMeet is a successful niche dating site for plus-size singles and their admirers. The website gives users a choice of several easy means of communication. BBPeopleMeet's matching system includes some of its most unique features. The site's search functions allow for detailed searches. BBPeopleMeet can be easily used on a mobile browser or on the app available in the app store. It is quick and easy to create a profile on BBPeopleMeet. The website is very popular among its target demographic, for whom it provides easy access to customer support. The terms and conditions provided by BBPeopleMeet are good, but could be improved. In summary, BBPeopleMeet is a good dating service that serves its target audience well.