| Overall Rating | 4.7/5.0 |
| --- | --- |
| Communication | |
| Matching System | |
| Mobile Usability | |
| Registration | |
| Support | |
| Terms And Conditions | |


JDate is the leading online dating service on the market exclusively for Jewish singles. JDate launched in 1997 by Spark Networks, Inc., a parent company that operates a number of demographically focused online dating websites. JDate is an established and well known dating service with almost two decades of experience creating matches. It is a very trusted service in the Jewish communities.

Visit JDate Website >>
---
JDate Communication
| Overall Rating | |
| --- | --- |
| E-Mail | |
| Chat Functions | |
| Video Chat | |
When it comes to means of communication, JDate is keeping things straight forward and simple. Users are only given the option to communicate through direct email messaging. Live chat is not an available option for communicating with another user, which slows down and draws out the beginning conversations. JDate does not give users the option to video chat with one another, either. In general, JDate's established means of communication are minimal.
---
JDate Matching System
| Overall Rating | |
| --- | --- |
| Personality Test | |
| Profile Matching | |
| Profile Visitors | |
| Block Users | |
JDate uses a matching system tailored to its own niche needs. This service doesn't use a personality test to match singles together. Instead, their system matches singles together based on similar traits and future objectives. JDate's system allows users to look at and browse through the profiles of their matches. Users on JDate are notified when others have looked at their profiles. The site gives users the option to block contact from specific users, if need be. In general, JDate's matching system is very efficient.
---
JDate Search Features
| Overall Rating | |
| --- | --- |
| Picture Search | |
| Keyword Search | |
| Now-Online Search | |
| Search By Profile Criteria | |
| Show New Members | |
JDate excels the most when it comes to its search functions. Their search features allow users to look for others based on a number of relevant factors, including photo and keyword. Members can also search for and see when other users are online at the same time. JDate has a designated search option for newly made profiles. Users can also search for matches based on more specific profile criteria such as age or height. Overall, JDate's search functions are very good and extremely thorough.
---
JDate Mobile Use
| Overall Rating | |
| --- | --- |
| Mobile Usability | |
| App Usability | |
| Android App | |
| iPhone App | |
JDate excels on mobile in terms of its usability and the ease from which the user transitions from the web platform. Its usability in mobile is excellent. In the app, it also does very well, with members reporting it is just as easy to use. JDate has an app available on both Android and iPhone operating systems. Overall, JDate does very well in terms of mobile usability.
---
JDate Usability
| Overall Rating | |
| --- | --- |
| Login with Facebook | |
| Ease Of Registration | |
| Ease Of Use | |
It is easy to register and build your account on JDate. Registering with JDate is a painless process that's over as soon as it begins. Setting up a profile is generally an expedient endeavor as well. Most members report feeling extremely comfortable when using JDate for the first time. Overall, registering and using JDate is a quick and simple process.
---
JDate Popularity
| Overall Rating | |
| --- | --- |
| Facebook | |
| Male/Female Ratio | 51/49 |
| Main Age Range | 25-50 |
JDate's demographically-based dating service is popular among users. It is not only used by Jewish singles looking to match up with other Jewish singles, but also by Gentiles looking for a Jewish partner. On the average, users range in age from early 20s to mid-40s and early 50s. Because JDate is demographically based, it has a good sized volume of users, but it is not the most popular online dating service on the market. The site maintains average popularity on Facebook. Members have high-quality profiles that cover important details a potential dating partner would want to see. In general, JDate is very well liked among its users, but it is demographically based.
---
JDate Support
| Overall Rating | |
| --- | --- |
| Support FAQ | |
| E-mail / Contact Form | |
| Phone | |
| Helpful Articles | |
| Forum | |
JDate provides several detailed means of customer support for its users. On the website, it has a detailed and extended series of frequently asked questions, relating to any potential concerns that a user could surmise. If a member has any questions or concerns, JDate has a contact form on their website, as well as a listed customer service phone number. They have a blog as well, where they regularly publish posts relevant to their demographic. JDate doesn't have a forum on its website on which users can openly communicate. Overall, JDate's means of customer support are exemplary.
---
JDate Terms And Conditions
| Overall Rating | |
| --- | --- |
| Free Offer | |
| Highest Price | 39.00 USD |
| Lowest Price | 18.00 USD |
| Free Trial Period | 0 |
| Monthly Plan | |
JDate's terms and conditions are very fair. All users receive an unlimited free plan and are not forced to pay to use the service after a certain number of days. If a user chooses to use the premium service, the price is very reasonable and cancellation terms are simple and easy to execute. Premium membership is available on a month-to-month plan. In summary, JDate's terms for registration are very fair.
---
JDate Summary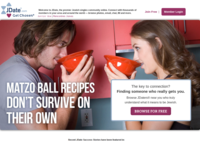 JDate is the premier online dating service catered specifically to Jewish singles. Their match making system is not based on personality tests, but instead on user profiles. Its search functions are excellent, making it effortless for members to find others they may have matched with. JDate's mobile apps for both Android and iPhone are rated excellently, with users reporting that mobile usability is extremely efficient on the apps. It is an extremely popular service, given its demographic and its very specific objectives. Members are comfortable with the knowledge that the service has set up significant means of customer support to address any and all concerns. JDate is a very trusted and reliable dating service among the Jewish communities.